Innovative & Groundbreaking
AESTHETIC / HOLISTIC HEALTH
MedRoyal AZ, a Revitalize Co., brings top-tier naturopathic medicine and aesthetic services to people living in Phoenix, Arizona, Chandler, Arizona, and nearby communities. The medical spa's led by YiQiu Hu, NMD, Sarah Shell, NMD, and Ashley Riley, NMD, are all naturopathic medical doctors licensed by the state of Arizona.
Our naturopathic team at Med Royal AZ offers a unique approach to healing and wellness. Still, each doctor specializes in identifying the underlying cause of negative symptoms and treating that cause rather than masking it and only treating the symptoms - this method of care taps into the body's innate ability to heal itself and restore balance.
Med Royal AZ is proud to offer a range of naturopathic health care services, including IV therapy, hormone therapy, and personalized weight loss programs.
Platelet-rich plasma (PRP) therapy is a revolution in regenerative medicine; additionally, with PRP therapy's profound results, our team extends PRP therapy for pain management, hair restoration, and skin rejuvenation as part of the naturopathic services.

With a commitment to helping patients feel their best from the inside out, Med Royal AZ also provides a full suite of aesthetic services. Patients can achieve a more youthful glow and boost their self-esteem with treatments ranging from Botox® and dermal fillers to laser facials and laser hair removal. Reclaim your health and your confidence with personalized care at Med Royal AZ. Call the office or book an appointment online.
YIQIU HU, NMD

Naturopathic Medical Doctor
YiQiu Hu, NMD, is a naturopathic medical doctor at Med Royal AZ in Phoenix, Arizona, and Chandler, Arizona. He graduated from Northern Arizona University with a Bachelor of Science in biology.
YiQiu's vision is to create the perfect integrated health care system to end his community members' suffering. He works to provide the community with high-quality care and communication, allowing them to embrace his heritage's traditional medicine while also providing cutting-edge advancements in modern medicine.
His family inspired him to pursue his vision of revolutionizing America's integrated health care system. YiQiu's father is a researcher for the Chinese Social Scientific Academy and was, at one time, employed at the Chinese embassy in Hungary. His great uncle was the chief of surgery at Beijing University Hospital and was the personal physician of China's former president, Zhou En Lai.
Following in his family's footsteps, YiQiu hopes to leave a legacy of improved health care for generations to come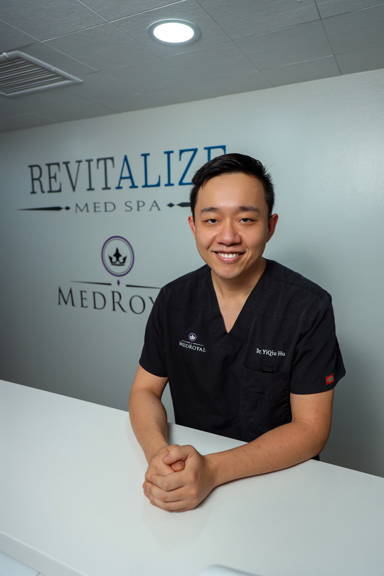 SARAH SHELL, NMD

Naturopathic Medical Doctor & Advanced Injector
Sarah Shell, NMD, is a naturopathic medical doctor serving patients at Med Royal AZ in Phoenix, Arizona, and Chandler, Arizona. Originally from Vancouver, Canada, Dr. Shell graduated from the University of Nebraska Omaha with a premed bachelor's degree in neuroscience.
After struggling for many years in the conventional health care system to no avail, naturopathic medicine was a life-changing encounter. As a full-time mother and a professional mixed martial arts fighter (in her spare time), Dr. Shell has a marked appreciation for health optimization and works alongside patients to help them feel more energetic, empowered, and confident. Her endocrinology background has helped her develop targeted therapies to address the unique characteristics of menopause, endocrine disorders, and the natural aging process of men and women.
Dr. Shell is a results-driven provider with extensive cosmetic dermatology training (including laser therapy, advanced injectable fillers, platelet-rich plasma/microneedling, and hair restoration), hormone replacement therapies for men and women, women's health, and thyroid disorders.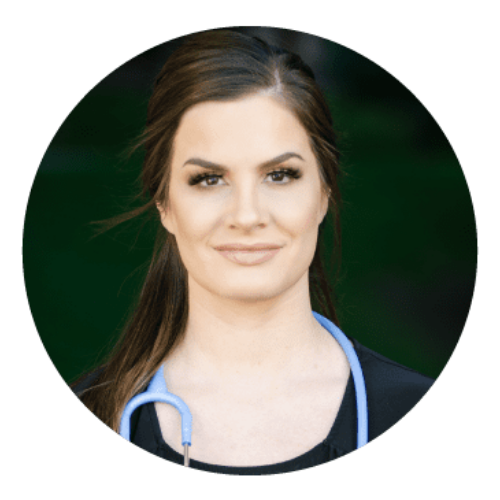 ASHLEY RILEY, NMD

Naturopathic Medical Doctor
Ashley Riley is a naturopathic medical doctor at Med Royal AZ, serving patients in Phoenix, Arizona, and Chandler, Arizona. Dr. Riley received her undergraduate degree in biology and public health from Muhlenberg College in Allentown, Pennsylvania, and her medical degree from Southwest College of Naturopathic Medicine in Tempe, Arizona.
After receiving a platelet rich plasma (PRP) injection for a ruptured Achilles, she became passionate about regenerative medicine, which allowed her to avoid surgical repair. Her experience with receiving regenerative injections gives her a unique ability to relate to patients. She is excited to continue learning the best ways to incorporate other modalities to help future patients reach their optimal health. She has a passion for working with all patients, especially athletes.
As a former competitive gymnast and collegiate athlete herself, Dr. Riley understands what it is like to be sidelined from injury and how frustrating it is not to heal as quickly as one would like. She wants to help patients recover from injuries and improve their overall performance by utilizing an integrative approach to care.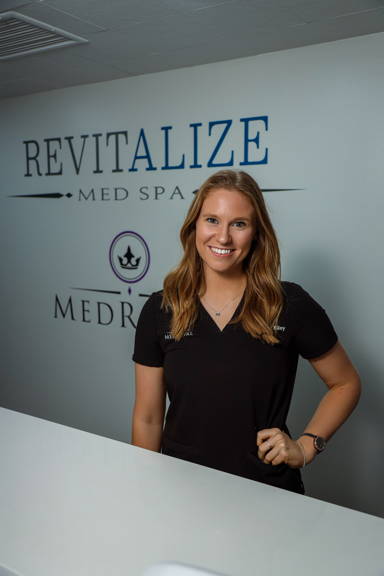 ERIN FITZGERALD, NMD
Naturopathic Medical Doctor
Erin Fitzgerald, NMD, is a licensed naturopathic physician at Med Royal AZ. She is dedicated to providing personalized care to patients living in Phoenix, Arizona, and Chandler, Arizona. Dr. Fitzgerald completed four years of postgraduate medical education at Southwest College of Naturopathic Medicine in Tempe, Arizona.
She also completed a one-year residency program in general family medicine at Southwest Naturopathic Medical Center, where she completed more than 1,500 hours of additional clinical training. She has spent the last ten years running a private practice focused on bio-identical hormone therapy and anti-aging and teaching at Southwest College of Naturopathic Medicine as adjunct faculty.
Dr. Fitzgerald has a passion for helping her patients achieve their treatment goals. She uses several therapies to address patients' needs, including hormone therapy, IV therapy, acupuncture, homeopathy, nutrition counseling, supplementation, and weight loss therapy. She truly listens to her patients' needs and treats them individually to help them feel more healthy, vibrant, and energetic.
Although Dr. Fitzgerald grew up in Salem, Massachusetts, Arizona has been her home since 1999. In her free time, she enjoys photography, hiking, horseback riding, and creating healthy meals. She also has a passion for organic gardening and self-sustainability. Dr. Fitzgerald is a mother and has a young son who is the light of her life.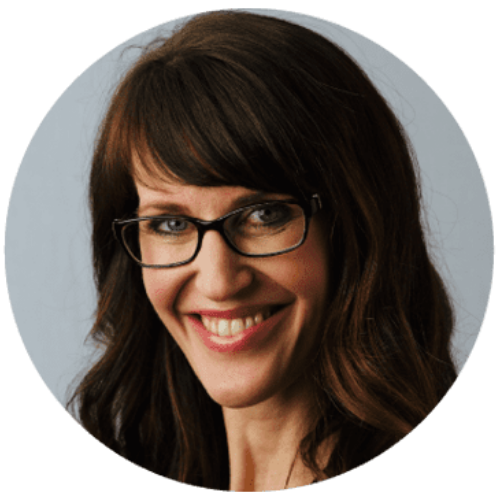 BRIAN QUACH, CST, DCT

Licensed Massage Therapist
Brian Quach, CST, DCT, is a licensed massage therapist at Med Royal AZ. He is passionate about providing high quality, individualized care to patients living in and around Phoenix, Arizona, and Chandler, Arizona.
Brian graduated from the Southwest Institute of Healing Art, a massage school located in Tempe, Arizona.
He has completed over 750 hours of academics, theory, and practice in the massage program throughout his education. He also completed more than 200 hours of academics, theory, and training in the cranial unwinding program. At Med Royal AZ, Brian uses several therapies to address every patient's needs.
He combines treatments such as massage, cranial unwinding, light therapy, Dien Chan, cupping, guasha, and myofascial release in his personalized plans to improve patients' health and well being. He has also spent the last two years focusing on pain management and helping patients find pain relief. Brian has lived in Arizona for the majority of his life. He is a proud father of two beautiful girls.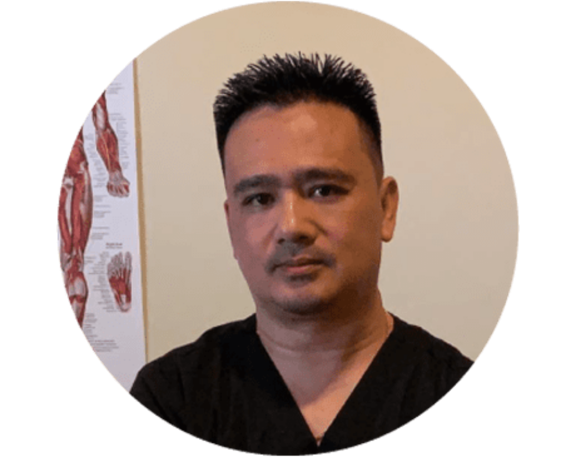 CHELSEA KARBON, NMD
Naturopathic Medical Doctor,
Medical Director
Chelsea Karbon, NMD, is a licensed naturopathic physician at Med Royal AZ, serving patients in Phoenix, Arizona. Dr. Karbon received her Bachelor of Science in Biology at Northern Arizona University and completed her Doctorate of Naturopathic Medicine at Southwest College of Naturopathic Medicine in Tempe, Arizona.
Dr. Karbon takes pride in helping patients find natural relief from pain. She strives every day to treat accident and injury victims with the utmost care and compassion. Dr. Karbon is passionate about Traditional Chinese Medicine (TCM) including acupuncture and has completed additional studies in TCM and acupuncture both here in AZ and in Beijing, China.
An Arizona native, Dr. Karbon is fond of the beautiful Southwest and enjoys combining the strengths of Eastern and Western medicine to help patients on their journeys towards recovery.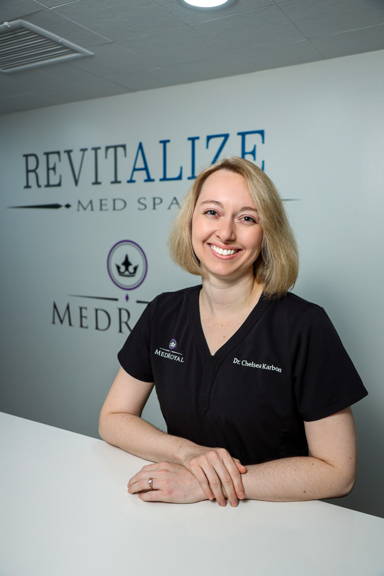 ALBERT E. BERNARD, D.C.
Doctor of Chiropractic
A native-born Arizonian, raised in Chandler and graduated from Chandler High School. A graduate from Palmer College of Chiropractic-West, in San Jose, California, he has practiced Chiropractic in the personal injury arena for over thirty years. Dr. Bernard has been quoted several times as saying; "If I can't fix you, I'll fix you so nobody can." He is noted for having a light touch when adjusting, and a good sense of humor.
What our patients are saying...
MAKES ME FEEL GREAT
"I drove from Los Angeles to Chandler to see Dr. Hu. The second I talked to Dr. Hu on the phone I KNEW I was gonna make the drive."


AMAZING DOCTOR
"I want others to have the same fantastic general medicine experience I've had. It's the best medical office experience"


MY EXPERIENCE WAS FLAWLESS
"Wow! I am very grateful to have found such a wonderful medical office that really looks at the big picture of your health and really cares about you! :)"